Armadillo Army

The Armadillo Army is marching, and they want you to join them!
The Armadillo Army is our volunteer corps that helps keep our Camp Yocona property looking sharp throughout the year. Several service dates are scheduled, and you are invited to attend! (Lunch is always provided!)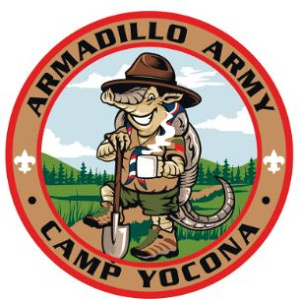 Scouts, parents, volunteers, Scouting alumni, co-workers and neighbors that want to help – we offer several times during the year to do just that. Projects will be age-appropriate and can vary from raking to sawing, tearing-down to building up, painting and cleaning and more.
Camp Yocona is a great place for all Scouts and Scouters to visit, camp and enjoy nature and the out of doors. The camp is ours and we are always looking for ways to make it better and nicer for all of us to enjoy.
We need you to join the Armadillo Army and come and take on a bit of service work at the camp.
Upcoming dates:
March 11, 2023
April 8, 2023
May 13, 2023
June 3, 2023
July 8, 2023
August 12, 2023
September 9, 2023
October 14, 2023
November 11, 2023
December 9, 2023
Meet at 8:00 a.m. at the Admin Building
Lunch will be provided, but be sure to register (no cost) so we know how many are coming for lunch.
Weather permitting we would like to do some more fencing work but also have a few other projects if weather is not ideal. This will be the weekend prior to Wood Badge so we will get our camp in tip top shape!
Armadillo Army March 11th March 11, 2023

Armadillo Army April 8th April 08, 2023

Register Today